Here you can find the discriptons of diffrent episodes. Once a week their will be a new discription on the favorite episodes colloum the same with the discription of diffrent episodes shown at the bottom.
Please e-mail me giving your rating for both episodes on a scale of 1-10. Also please e-mail me your favorite episode it may show on the fave episode colloum.I am american so if the episode hasn't played in america please send a description. Please e-mail me also if there is an episode that you would like to know about or see posted in the below colloum.
"Farewell, My Beloved Kikyo"
Episode 124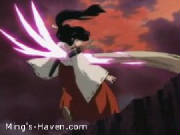 Description: The confrontion of naraku in the mountain continues. Surprisingly Inuyasha saves Kouga. O.o?? I'm sorry if this description is bad it's been a while since i have seen this ep. But the baby incarnation of naraku is born and also to many kikyo lover's dismay kikyo is killed when she confronts Naraku after he has finished making his new body. Kikyo dies after being struck in her clay shoulder and falling into a river of miasma.
Comments:
Please e-mail comments on this episode and your own user name.
Rating :?